Day 4
Agia Effimia - Fiskardho
Day 4
We planned to visit Fiskardho for our next night and bearing mind that it seemed the most popular spot in the southern Ionian we decided to arrive pretty early, so we left Agia Effimia as soon as we woke and motored gently up the coast into Stenos Itaka looking for a suitable spot for breakfast. After half an hour Michalis passed us on the same mission.
Gorgotha Beach
The first unoccupied bay we tried we had to leave again when we realised it had the main electricity supply for Ithaka running out of it but a mile or so further north we found Gorgotha unoccupied. Unusually this anchorage is not mentioned in Rod Heikell's Ionian Pilot and besides being beautiful and very quiet it was also used as a set for parts of the filming of Captain Corelli's Mandolin, so we are not sure of the correct name but photos on Google Earth name it as Horgota or Gorgotha Beach. The small pedestrian pier is now virtually non-existent, with most of the metalwork on the seabed. Duncan climbed the hill and took some panoramas and we had another excellent breakfast aboard.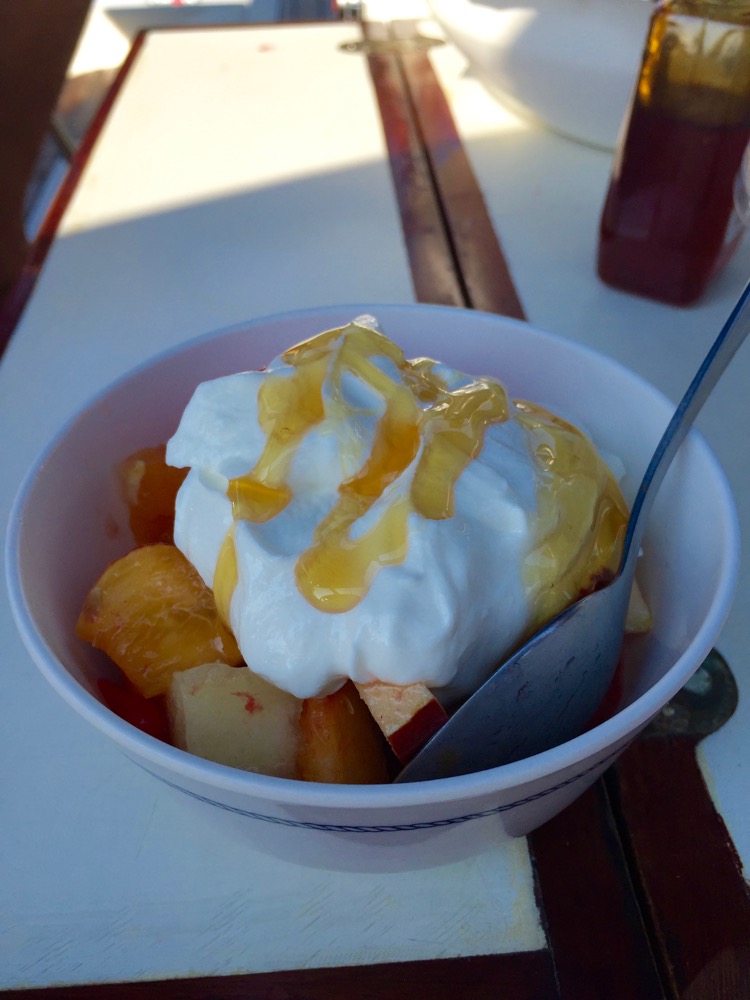 Fiskardho
Continuing north we reached Fiskardho in good time and were on tenterhooks to see whether or not we would find a good spot, stern to on the harbourside. After a gentle circuit of the small harbour we identified a single possible slot only two or three along from where Michalis had already berthed. After our previous two days experience we managed this reasonably well and taking account of the depth left our stern about 3 metres off some steps in the wall making the flubba relay as short as possible, but none-the-less amusing when drink had been taken. This is doubtless a beautiful place but is very popular and when 2 tripper boats pulled in and disgorged 500 passengers each at the same time as the ferry the quayside was a solid queue, so on balance Kioni seemed a more pleasant spot.