Day 3
Kioni - Agia Effimia
Day 3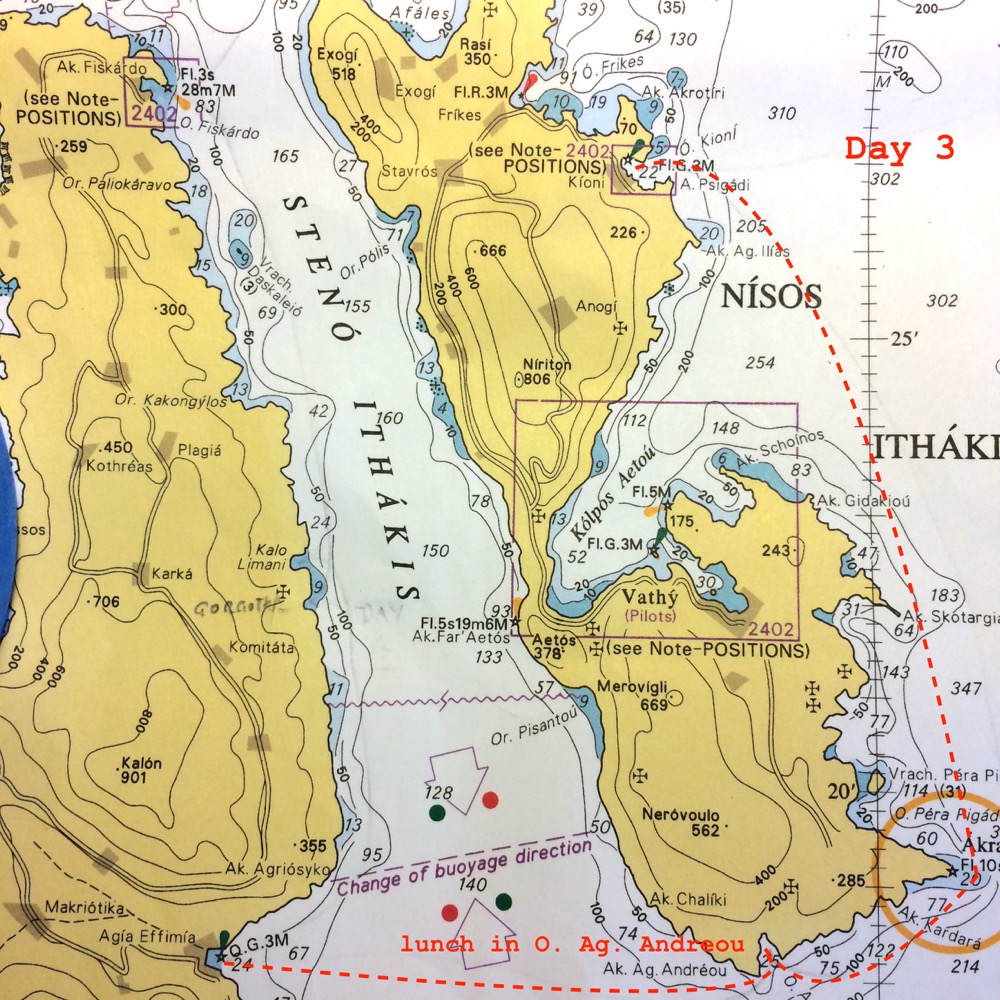 Waking to a beautiful morning but with no showers Howard and Mel set out in the flubba to investigate where we could get water, we thought on the other side of the harbour. It proved surprisingly easy as there was also water near our berth and €30 later we had an adequate supply on board for breakfast and showers.
Imfe
Imfe
Ormos Agia Andreou
Following the coast of Ithaka south, in the usual bright clear hot and calm morning weather we spotted several boats in Ormos Agia Andreou, a deep steep sided bay at the extreme southern end of the island so we headed in and anchored in the clearest water we had yet seen, a really beautiful spot with plenty of safe water to anchor in 5 metres without a shore line.
Agia Effimia
From Ormos Agia Andreou we had a beautiful starboard reach over Steno Ithaka to Agia Effimia which we reached in mid afternoon and found it rather full despite seeming quite a big place. Howard set off in the flubba to try to find us a slot and returned with instructions to call the Harbour Master on VHF. He gave us the last remaining slot, stern to on the extreme end /corner of the mole. When we first saw it it really looked impossible but with much encouragement and help from the Harbour Master we were eventually firmly warped into position with every centimetre of our chain out front and ready for a very cold beer. In our chosen taverna we recognised Michalis who had helped us moor in Kioni and had a long talk with him about how his Greek employer had collapsed leaving him as a design engineer to work part time as a flotilla skipper.