Arrival & Day 1
Palairos - Kastos
An early morning Monarch flight from Gatwick landed us in the blittering heat of Previsa, a civilian terminal building on a Greek military base surrounded with modesty screens to avoid passengers observing the current disposition of Greek military assets.
After a comfortable wait in a nearby cafe under an olive tree, for passengers from the next flight in, we were taken in a small bus to Palairos, over increasing rough roads past countless olive trees, about half an hour.
The Odysseus Sailing office is in a house next to the water near the centre of the town, a 100m from the concrete pontoon which this charter company use as their base for about 30 boats.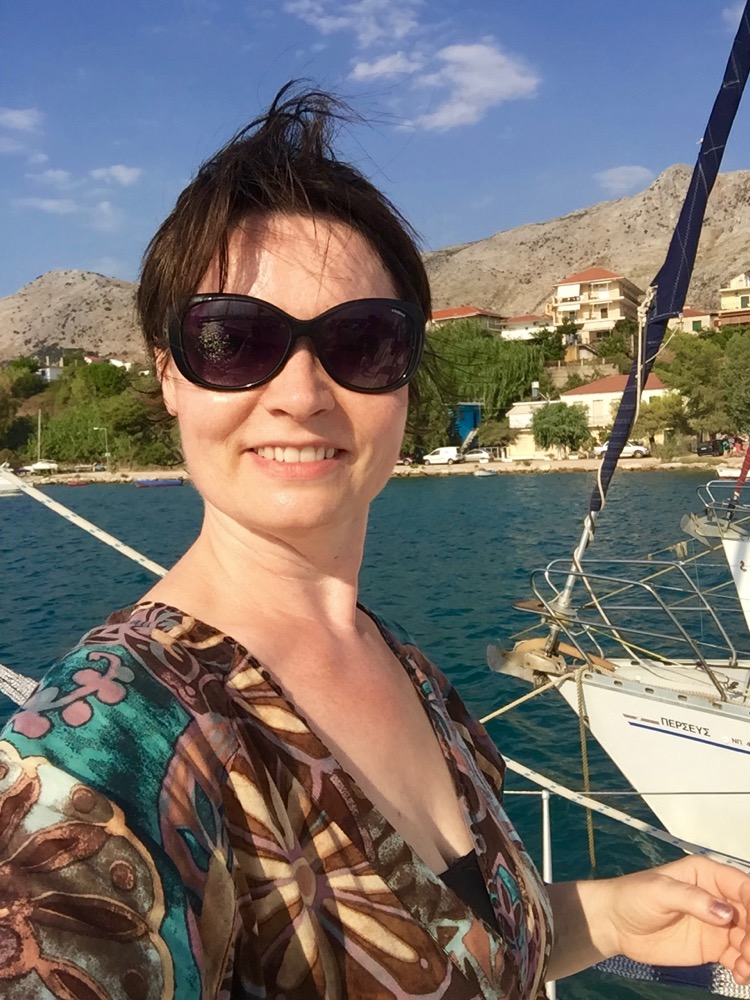 Having sorted out the formalities and paid for our provisions bill in cash, so they can pay the supermarket, and paid for our airport transfer and the end of cruise cleaning bill by credit card, we found a lovely lunch, roast pork, salad and beers for €35 for all six of us just up the road at what became our favourite eatery.
After 4pm we were inducted into the secrets of the good ship Dioni, a 20 years old Odysseus 44, checked the inventory, stowed our gear and settled down for an evening of bread, olive oil, cheese and wine before our first night on-board.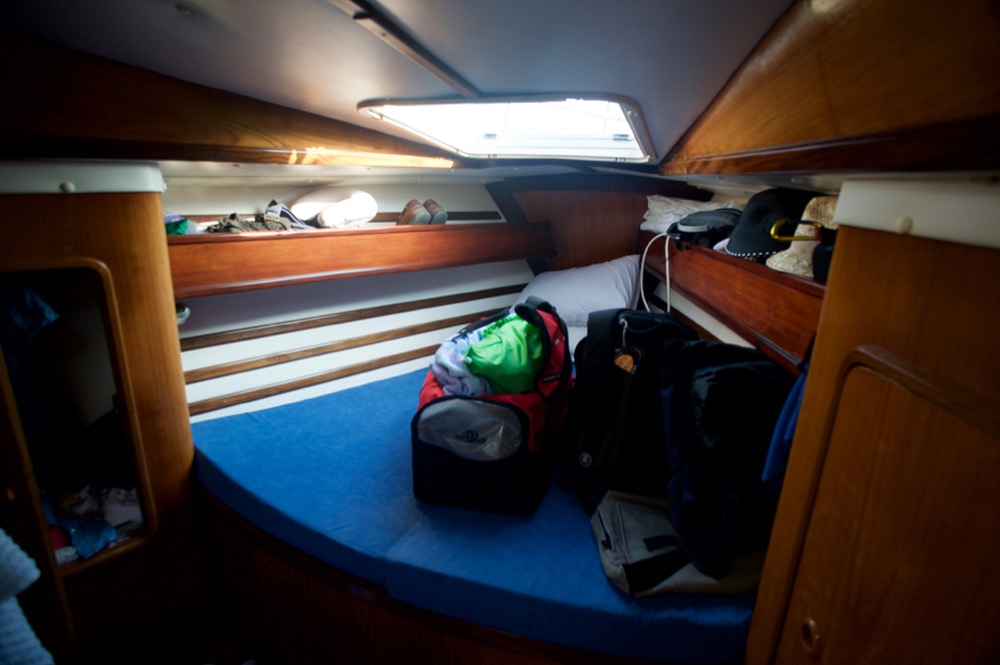 That first night was pretty warm and humid, a big change from UK, and we woke several times during the night. Waking up at first light, delighted by the beauty of the tranquil scene, two of us took an early morning walk around Palairos and found an expresso.
Day 1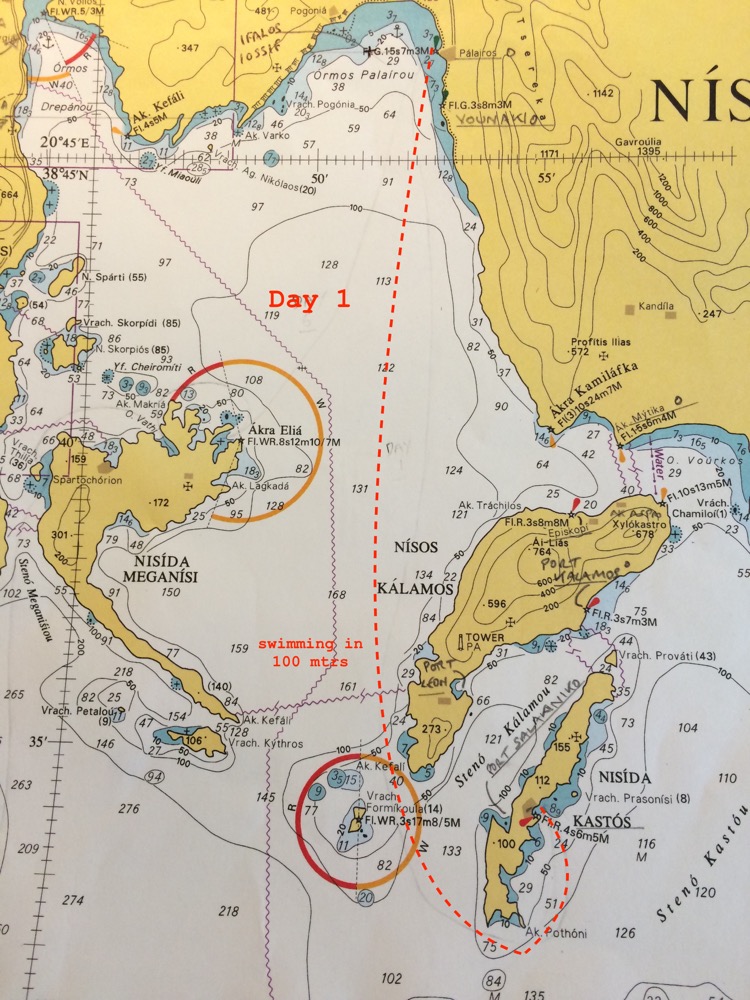 After breakfast we set off, motoring south over an increasingly warm millpond. We planned to visit Kastos for our first night in a foreign port. We were told that Kastos was a little like Greece, 30 years ago.
Leaving the pontoon was easy but we had to bear in mind that the depth is limited inshore so we shouldn't venture further east than necessary.
Motoring south on a millpond we had a great view of the coastal mountains behind Palairos, and as the day heated up we checked out our life jackets and harnesses and started down the western side of Kalamos a high, arid looking island with a passing resemblance to a whale.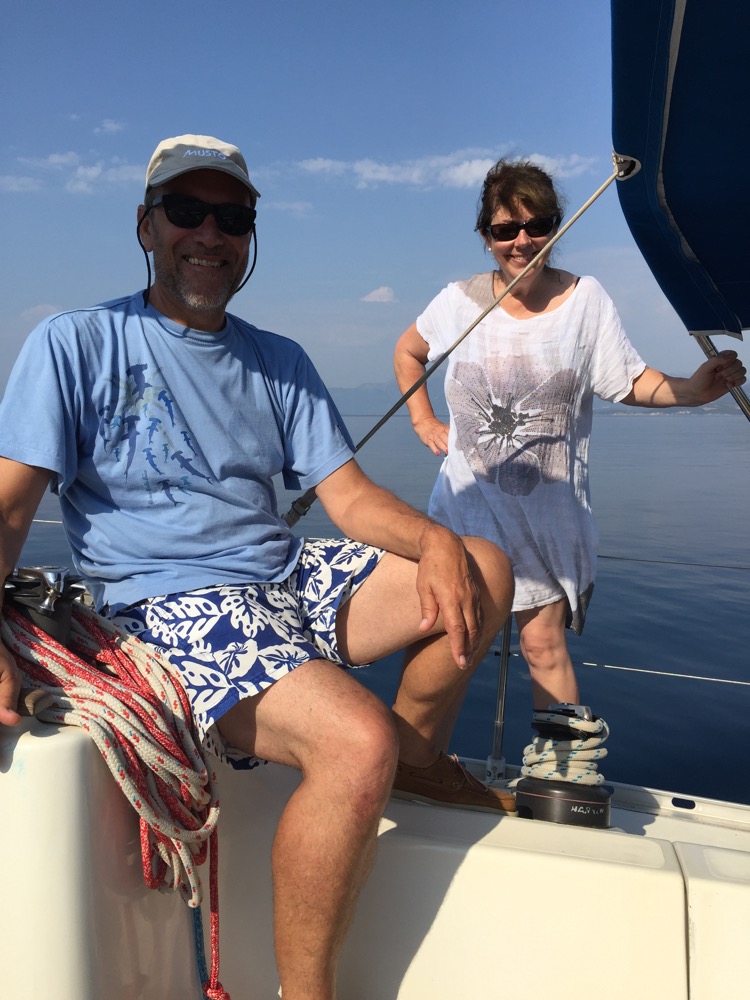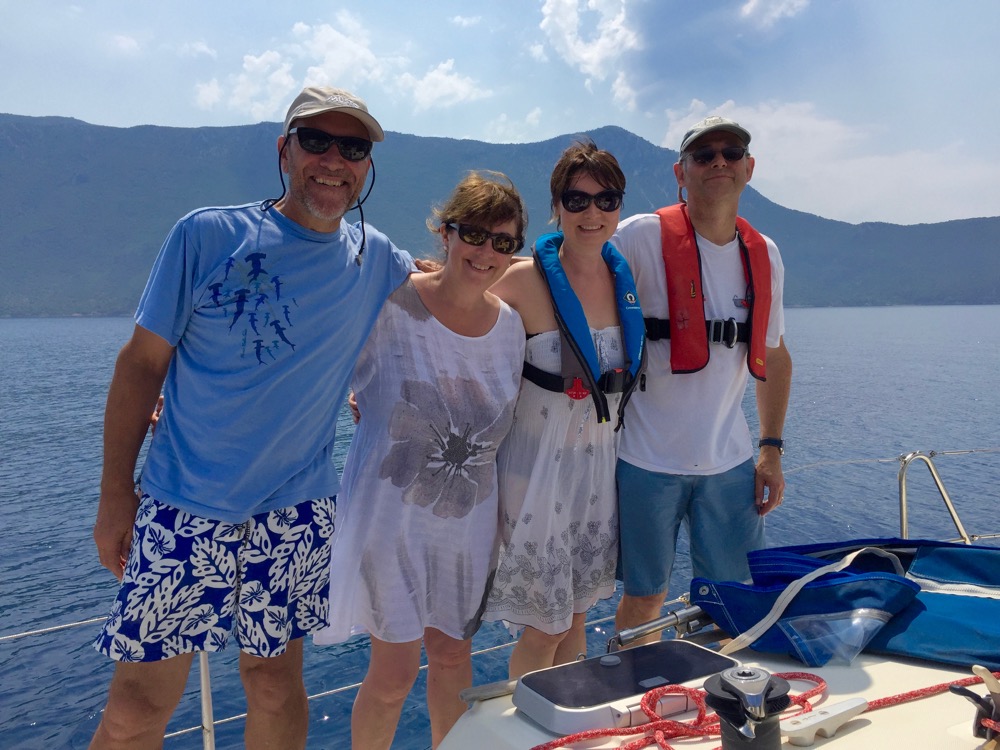 Swimming in 100 metres
Eventually we stopped the engine and swam in the deep deep blue blue waters about 100 metres deep, with a mask and fins it was hard to focus as there was nothing to see but beams of blue sunlight disappearing below us. The sound of the cicadas was almost deafening despite our lying about 400 meters off shore.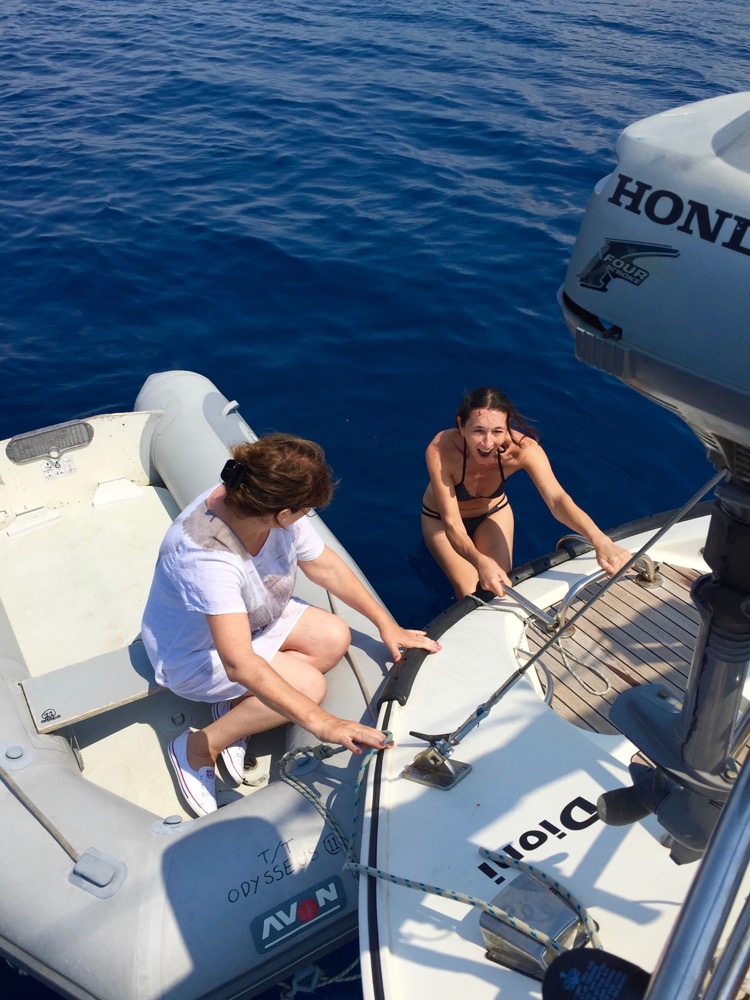 After our swim we headed south again and started cooking lunch, omelettes with a red pepper and onion filling.
The afternoon breeze
As we reached the southern tip of Kalamos the afternoon breeze started to fill in and the cooking of lunch was postponed as we reached with increasing speed towards the southern tip of Kastos. By this time half our team were holding on tight with life jackets on. We reached north east up the eastern shore of Kastos, then hardened up onto a fetch towards Kastos village at speeds of up to 8 knots. Having passed Ak. Pathoni we carefully executed our first gybe and reached then fetched up the eastern side of Kastos towards the village and its harbour, the windmill on the headland to the south of the harbour giving us an easily recognisable landmark. Duncan and Howard both demonstrated their skill at keeping Dioni on course as we started to reduce sail by rolling both our main and genoa. Then we furled our sails completely and motored into the harbour where there was room for us to anchor provided we also used a shore line of about 80 metres. We dropped anchor but having not yet worked out how to get a line ashore quickly in a cross wind, we weighed anchor again and motored into the bay just north of the harbour which was already well populated and anchored on the inshore side of the pack on a single anchor.
Kastos
After we had all had a refreshing swim, Duncan worked out how to get the inflatable dinghy motor going and then he, Cat, Howard and Mel headed off for the bright lights of Kastos whilst Nick and Bogusia looked after the boat as the skipper was concerned about our distance from shore if the wind reversed. The dinghy was very small and could only accommodate four passengers.
The shore party returned with supplies and we had an idyllic first meal onboard in a foreign port late into the night.
Around midnight after dinner, drinks and much conversation the wind did indeed reverse as expected and whilst part of the crew turned in the rest of us quietly weighed anchor and moved to a better position near the harbour entrance before getting some much needed sleep.